Instrumental and Vocal Music Lessons
You can gain additional UCAS points for entry to higher education
Music exams taken through the Associated Board of the Royal Schools of Music (ABRSM), Trinity College of Music and Rockschool from grades 6-8 can attract 5-75 UCAS Tariff points. Trinity College London also award 35 UCAS Tariff points for Gold Arts Awards. Many higher education course providers use a UCAS Tariff points total in their entry requirements achieved by converting qualifications such as A levels (and many others) into points to allow them to compare applicants.
'Playing an instrument' can be used to achieve a Duke of Edinburgh Award (DofE)
Playing an instrument is one of the most popluar activities used by students to achieve their Duke of Edinburgh Award. A DofE Award is an excellent way to demonstrate the skills developed through extra-curricular activities, particularly when applying to universities.
What's on offer?
We offer face-to-face tuition at our music centre in Swindon or at your school if your head teacher agrees.  Alternatively, you can have online lessons from your home.  Download the Brochure by clicking here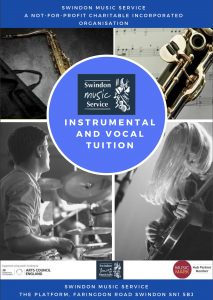 Progression routes from schools whole class instrumental tuition:
We offer a flexible continuation/progression offer delivered either at school at the music centre or at home (through online Zoom platform)
To find out more click the following links: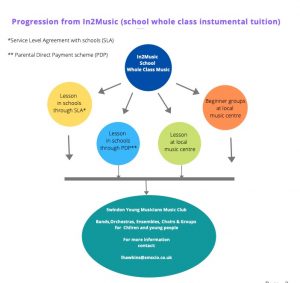 Click the button to find out more:
Instrumental & Vocal lessons at school, at the music centre or online>>
More information about online tuition: Further online tuition information>>
How do I sign up?
You can enquire about the lesson availability by completed the online application form.  One of our staff will then contact you to take you through he process of getting you started.  Click the button to complete the application form e_Application form>>
How do I pay?
Swindon Music Service offers an on-line paying system.  You can sign up to Parent Mail once we send you the link and you will receive electronic invoices and pay on-line.  Additionally, you can pay over the phone through iZettle.
What if I only need an instrument without lessons?
If you sign up to having lessons through Swindon Music Service, we offer the loan of an instrument within the overall costs of the lessons (subject to availability – for the duration of you continuing these lessons).
If you are just looking for instrument hire without the lessons, you can find out more about how to hire an instrument when you are receiving tuition by partner organisations within Swindon Music Education Hub 'Make Music Swindon.  You can see the current list of partners by clicking here.
To view the Musical Instrument Hire brochure:
Discounted instrumental & vocal lessons when a member of Swindon Young Musicians
Any combination of the above lesson choice will enable will be reduced to £8. 34 for a 20 minute sessions and £12.50 for a 30 minute session if you are a member of Swindon Young Musicians club (Borough music groups and ensembles), which costs the equivalent of £5 per week.
An example of termly costs (based on a 3-term year):
20 minute lesson (any combination of above) plus SYM membership
10 x 20 minute lessons £83.40 plus SYM membership for 10-weeks £50 Total to pay = £133.40
Useful Links:
For school use:
Paper Application Form for schools
For Parents/Carers: