Instrumental and vocal tuition
At Swindon Music Service we want all children to have the chance to carry on learning a musical instrument.  The Music Service Direct scheme teaches specialised skill which children need to develop their musical potential.
We offer instrumental and vocal lessons in a flexible and simple way.  You can choose from the following options:
 tuition in a flexible way either:

At our Music Centre – The Platform (This option is out-of-school time)
At your home (speak to the admin office to see if this is possible)
Online (This option falls out of the pandemic lockdowns when we were successful keeping instrumental tuition going and some people prefer the convenience of it)
Swindon Music Service  Direct (Parent Direct Pay) 
What your child will receive:
A 20-minute or 30-minute lesson in either the settings outlined above (musical instrument/voice) on their own.
The chance to hire a musical instrument for a small additional payment.
The chance to become a member of Swindon Young Musicians – where your child can join bands, choirs and orchestras each week according to their instrument and standard.
An opportunity to be entered for ABRSM music examinations (Grade 1 – 8)
Swindon Music Service offers a flexible scheme for instrumental & vocal tuition seeing lessons offered at the Music Centre – The Platform, at your home or online.  This way we strive to offer an inclusive programme where possible.
Tuition fee Tuition fees
Application for for school or out of school Instrumental and Vocal Lessons Online application form.
---
For lessons out-of-school 
Please see the out-of-school brochure: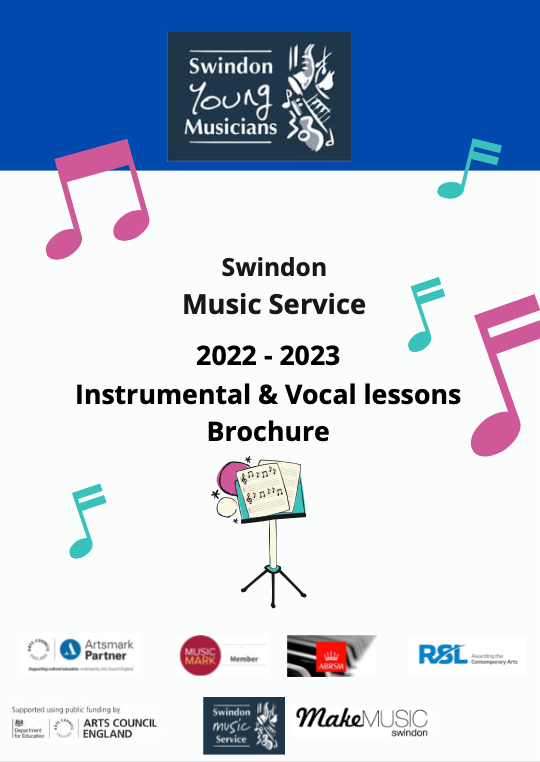 lessons out-of-school, through the Parent Direct Pay scheme will offer low cost instrument hire if your child does not already have their own instrument.
If your family circumstances meet our criteria, you may be able to apply for our REMISSIONS grant to help towards both lessons and instrument hire.
To find out more about our REMISSIONS programme Click here
---
You can gain additional UCAS points for entry to higher education
Music exams taken through the Associated Board of the Royal Schools of Music (ABRSM), Trinity College of Music and Rock school from grades 6-8 can attract 5-75 UCAS Tariff points. Trinity College London also award 35 UCAS Tariff points for Gold Arts Awards. Many higher education course providers use a UCAS Tariff points total in their entry requirements achieved by converting qualifications such as A levels (and many others) into points to allow them to compare applicants.
'Playing an instrument' can be used to achieve a Duke of Edinburgh Award (DofE)
Playing an instrument is one of the most popluar activities used by students to achieve their Duke of Edinburgh Award. A DofE Award is an excellent way to demonstrate the skills developed through extra-curricular activities, particularly when applying to universities.
Progression routes from schools whole class instrumental tuition: