Schools

School Log-in Log-in You will need a password to access the area.
The New
---
Model Music Curriculum launched in 2021

.  
Click here to view the documents and how Swindon Music Service can support your school: MMC  
---
Revised Membership Scheme for 2022/23
Overview
Swindon Music Service provides the highest quality music opportunities for children and young people across the borough.
Through our hub membership we can provide a rage of music membership packages and other programmes to support your school with the delivery of the music curriculum.
Each hub receives central DfE funding which is managed Arts Council England.
Benefits
We are passionate about music education and the impact a quality music offer can have on the lives of children and young people.  It also has positive impact on other aspects of learning and teaches: Perseverance and discipline; self-expression; stress relief; social skills; confidence and happiness.
About us
Swindon Music Service is a not-for-profit charitable Incorporated Organisation (CIO) and consists of a team of qualified, DBS cleared, experienced professional music tutors.
School Membership scheme 
There are many benefits to becoming a school  hub member.  They range from support to delivering the music curriculum and subsidised music programmes. More info
EYFS/Infant Membership
Primary Membership
Secondary Membership
Individual and shared instrumental tuition
Group music making
General
---
Through our membership schemes we offer services with some commercial partners:
Music Mark membership
Charanga
Music First (Focus on Sound
Discover Arts awards
ABRSM
---
Some services can be purchased on a buy-as-you-go basis
If you chose not to join one of the membership schemes, you can buy some services through our Buy-As-You-Go menu (subject to availability) click the button to see what services can be purchased on the buy-as-you-go! Buy-As-You-Go Form
---
Our Flexible Paying schemes
We offer the option for parents to be billed directly by Swindon Music Service (Parent Direct Pay).  The is our default option for our out-of-school/hours programmes through Swindon Young Musician, and is also available as an option in-school for small group/Individual Instrumental lessons.
For services purchased directly by the school: We issue One rolling Framework Service Agreement signed by the school, or academy trust.  This Agreement is only signed once and not every year.  This permits Swindon Music Service to send you annual a service addendum for the services purchased for the coming yearl. Schools will also give permission for Swindon Music Service to enter into individual contracts with parents for services to be delivered during the school day.
Individual invoices issued to parents on a termly basis. Different arrangements are available for lower income families, Looked After Children and Forces Premium More info
---
School hub members can apply for a music development grant from time-to-time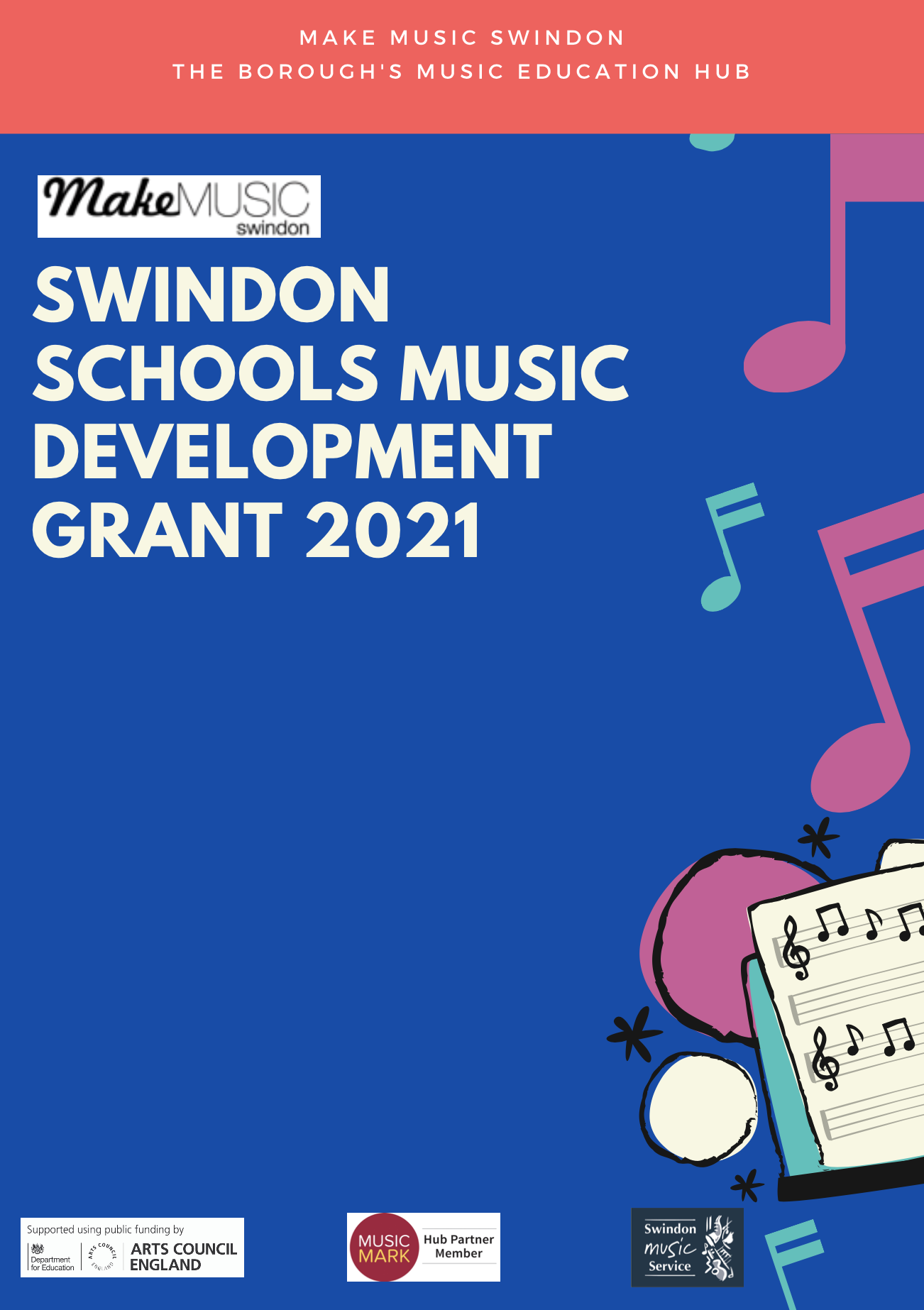 Applications window opens 1st April 2021 and closes 31st July 2021 and we are looking to award up to 8 programmes for  2021/22.  All successful programmes must finish by September 2022.
Examples of use of this grant (this list is not exhaustive):
1. Starting off an instrumental tuition programme where your school doesn't have one
2. Piloting new ventures / projects
3. Extending existing musical opportunities
Contact us for further details.
---