Schools


How we aim to support schools in Swindon
We work directly with schools across the borough to develop and deliver their music programmes, including workshops, teacher training, curriculum support and music lessons. Our schools Outreach Coordinators are equipped with information about local teachers, instruments, funding and resources to support classroom teachers and music coordinators.
Book a session through our new electronic calendar?
Book an online session with one of our Music Outreach officers to help you with your music curriculum, where to find resources etc.  Book a Singing strategy or health check meeting or CPD session : Request Booking
Choose from the dropdown on the calendar what session you wish to book.

Why use our service?
Click the button to see why you should use our services   Click here
How our 

services

 support the National Curriculum – Music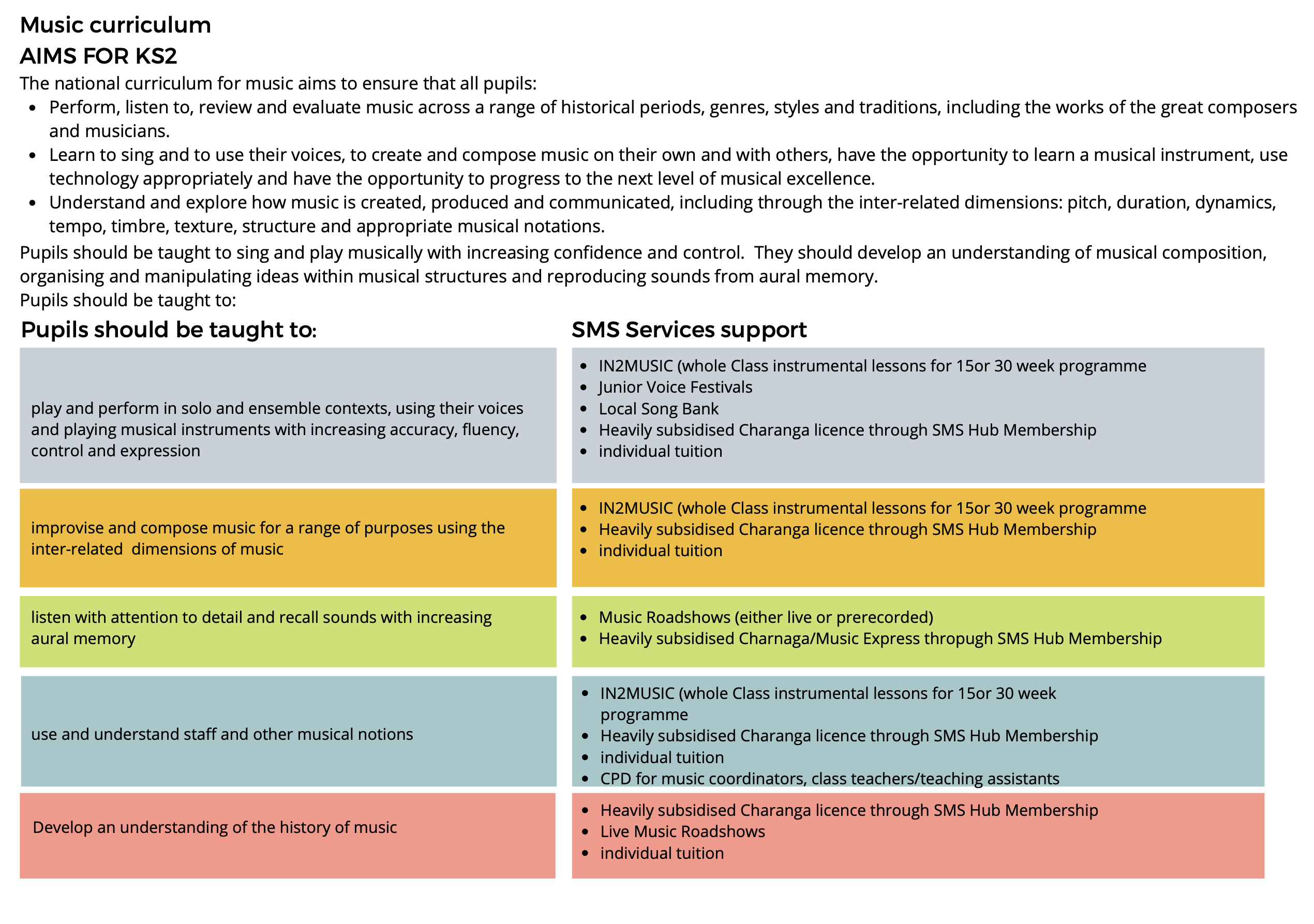 Key Stage 1 Key Stage 2 Key Stage 3
---
CPD Offer for Academic Year 2022-23
SEND focused CPD & Training

13th July 2022

 – Delivered by Charanga is aimed at all those teaching music in the SEND setting. To book a place click the button Book

Ofsted Deep Dive

14th September 2022

–  This session will be delivered by Sue Nicholls and will give you an insight as to what to expect when visited by Ofsted.  the session will run from 1-3.15pm.  If you are a school hub member, you can attend free of charge.  Non- hub members, the cost is £60 pp.  To book a place, click the button and complete the form: Book
SEN/D & Special Resources Provision (SRPs) – More information to come.
Expectations, progression and how to evidence it! – More information to come.
Get them singing – Keep them singing – More information to come.

How to make the most of your musical instruments in the classroom

 – More information to come.
---
Thinking about starting your school Artsmark Journey?

Swindon Music Service is now an Artsmark Partner.  See how our services can support you. Click here
---
Our service offer to Swindon Schools 2022-23 Academic Year!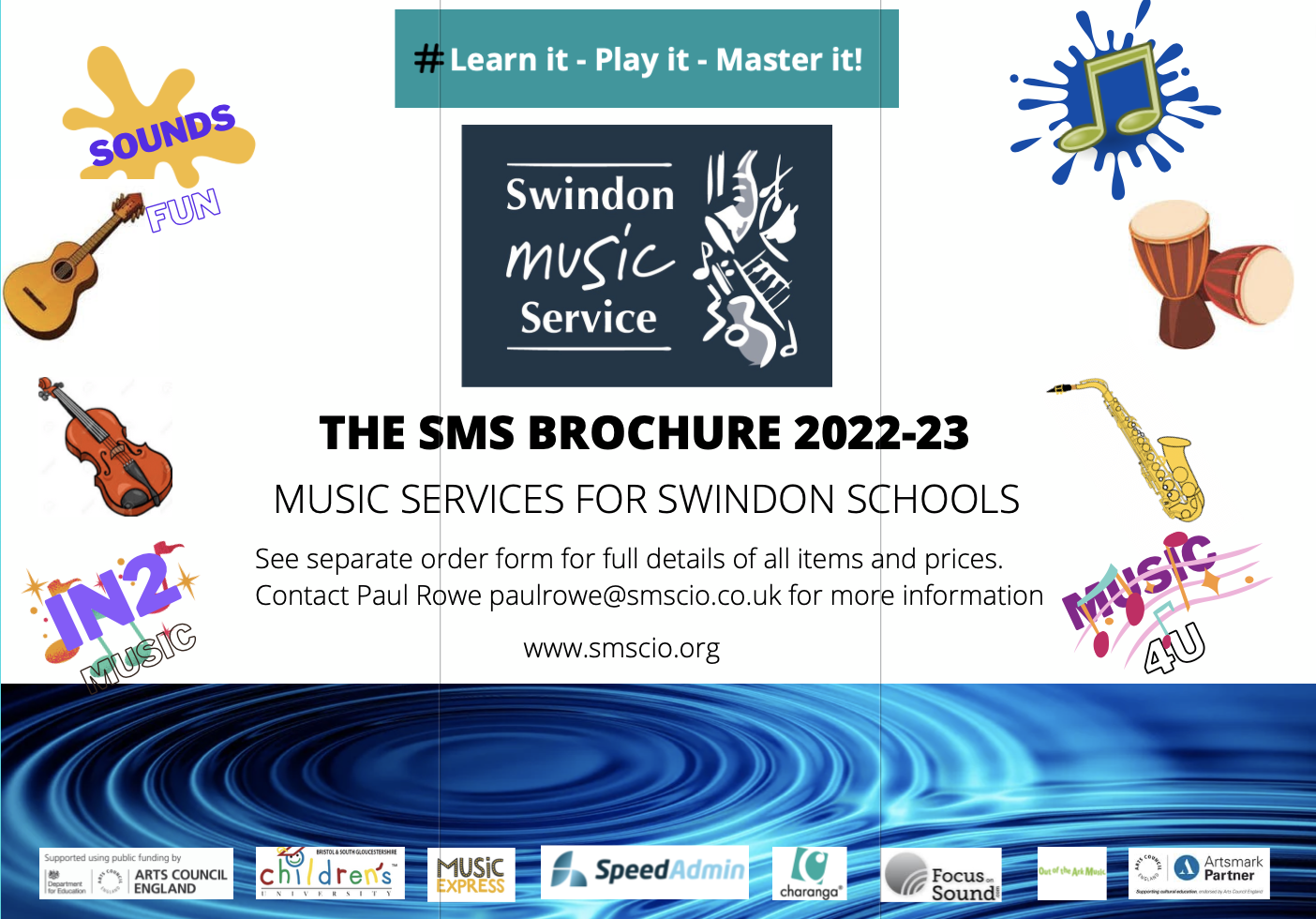 You can view our latest brochure for schools.Brochure
Whats New for 2022-23?
Improved schools hub membership with support from Music Specialist Outreach officers
Online resources
Annual CPD programme
Remissions for instrumental and vocal tuition where families meet the criteria
Support services outlined for the National Curriculum and Artsmark
Instrumental & Vocal lessons in schools

You can view the brochure for schools and parents. Click here
There are two options when schools offer tuition in their school:
The school buys in blocks of time (a minimum of 1 hour is required per instrument family).  This option attracts free instrument loan through the school admin process
Parent Direct Pay (PDP). This is where parents pay the fees directly to SMS.  We also offer instrument hire at very competitive rates (below commercial rates). Lessons Fees for Parent Direct Pay. Click here
PDP also attracts our REMISSION grants for both tution and instrument hire where a family qualifies – See our remissions leaflet Remissions Leaflet

---

The benefits of us using SpeedAdmin

Click here

The video outlines the many benefits for schools, parents, students, teachers and the admin teams.

---

Curriculum Support

Through your Hub membership, you will be able to access many resources, help and support documents and videos.  Here is some initial help offered free:

Once you are a Hub member you can use our Swindon Music Service documents which takes you through the following process:

Self-Assessment of your current whole school music provision
Write your Music Policy
Write a strategy for implementing which involves your curriculum mapping
Review & Health Check

Useful documents:

---

Useful links below