Schools

School Log-in Log-in You will need a password to access the area.
Swindon Music Service exists to provide the best possible music opportunities for children and young people within Swindon and the surrounding areas.  As a newly formed charity, we can now offer our services to schools in the surrounding areas outside the Swindon catchment area.
We offer high quality music tuition and events in a range of styles and genres.
New for 2021 – The New Model Music Curriculum.  Click here to view the documents and how Swindon Music Service can support your school: MMC  
---
New for 2021-22
Schools Brochure for 2021-22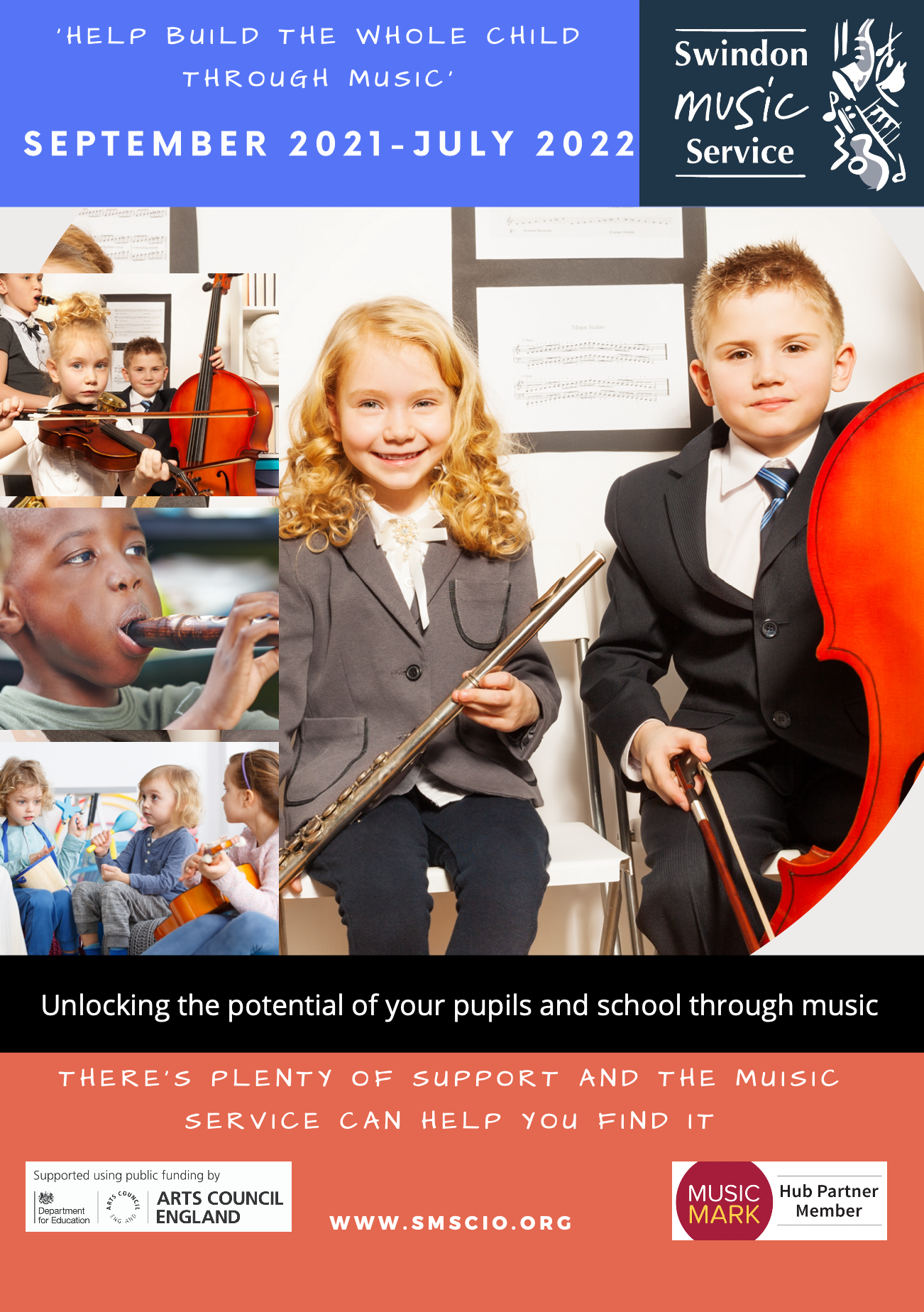 This year, we have produced a service brochure for schools to see what's on offer.
Schools will receive a separate communication from us along with the order form and price list. This brochure is to assist you to understand a little more about the individual programmes on offer.  The brochure also interactive with links embedded to take you to other parts of the website.
You can request an electronic copy of the full brochure by contacting us: Contact us
---
Membership Scheme
Through your hub membership, we have added even more  in our efforts to support your school when delivering the music curriculum.

We are adding Charanga licence to our infant, junior & primary school membership for the year. We have found this to be a very valuable resource for school – especially during national lockdowns.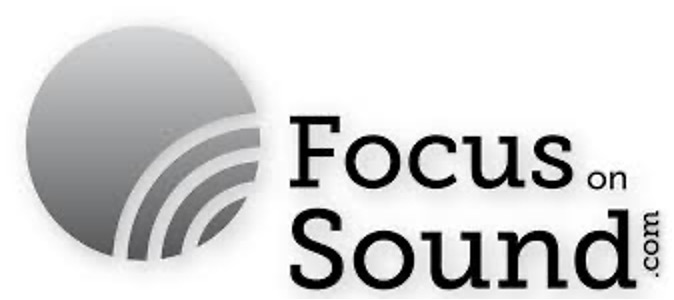 We are adding Focus on Sound licence to our secondary school membership for the year. We have found this to be a very valuable resource for school – especially during national lockdowns.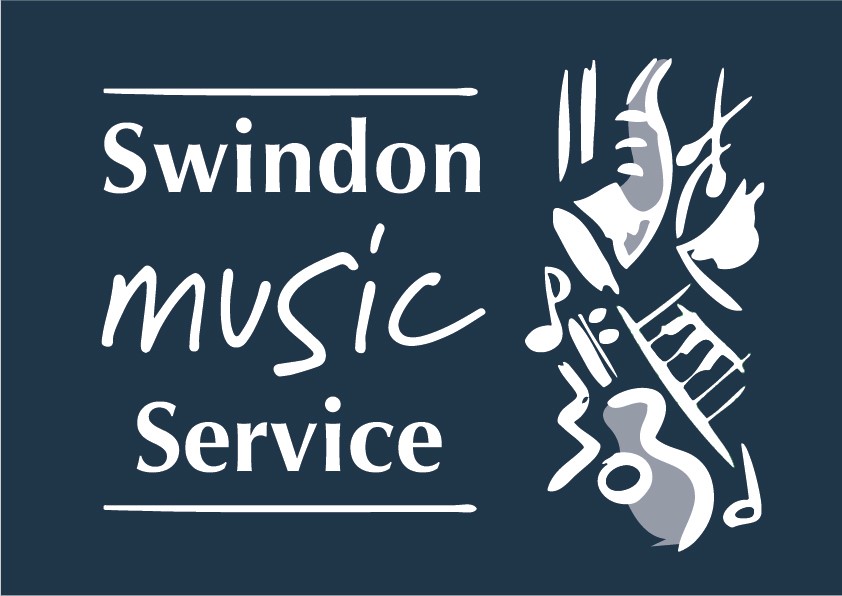 We will now assign a Specialist Music Outreach Lead to your school who will assist you to develop your music provision unique to your needs and to help you develop your school Music Plan – a requirement by OFSTED.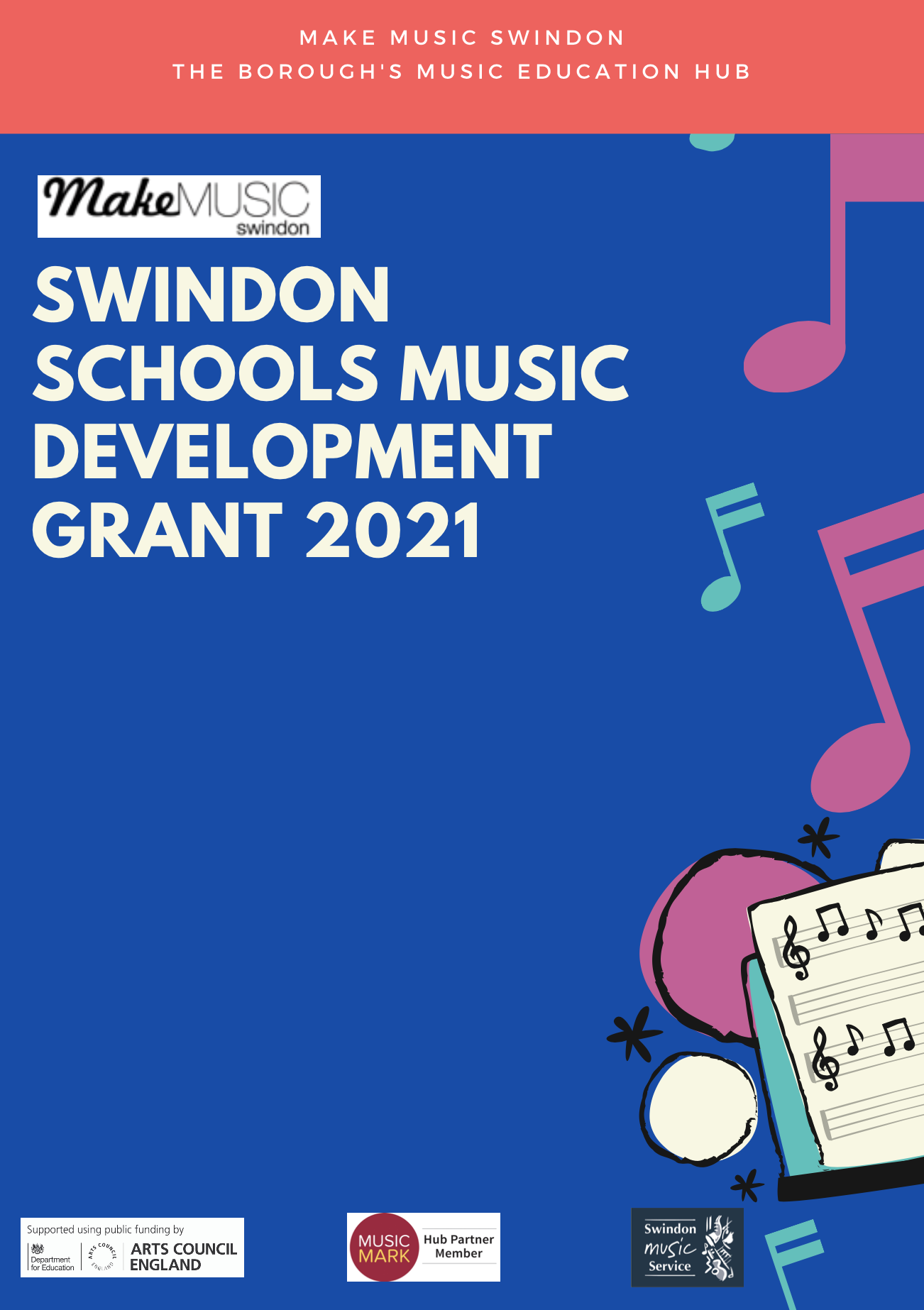 Funding opportunities – Once you become a hub member school you can apply for a Music Development Grant of up to £500. We will be looking to award up to 8 projects in 2021-22 for schools.
---
JTP Trust – Is a partner in the Make Music Swindon hub and has a special offer for schools.  You can access their poster by clicking the button JTP Trust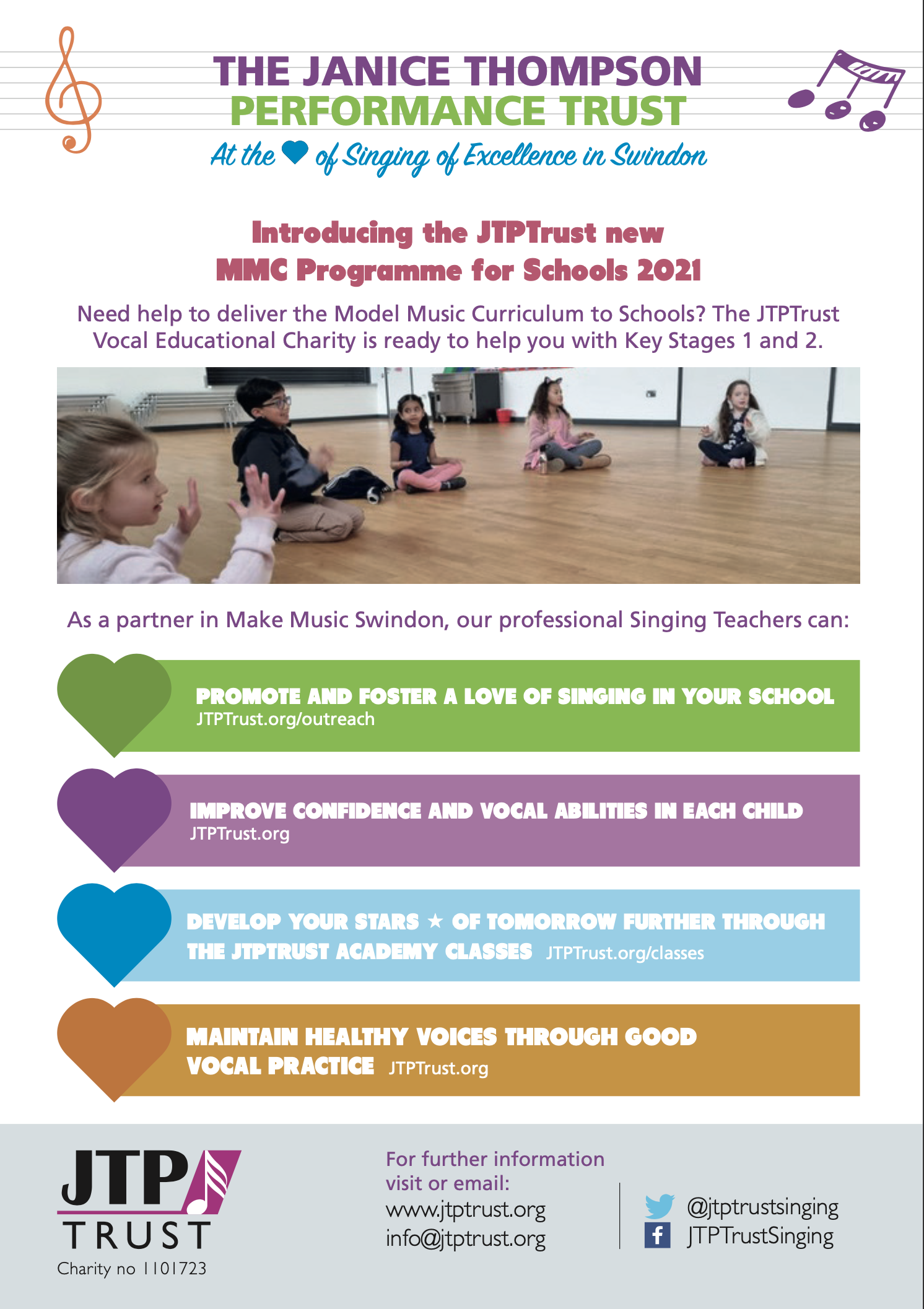 ---
Programmes we are offering

School Membership scheme – Were are many benefits to becoming a school  hub member.  They range from support to delivering the music curriculum and subsidised music programmes. More info

EYFS & Foundation stage support –We offer a well-developed, unique music programme for early years and foundations stage.  there are three elements: Sounds Fun; First Steps & Make a Noise Festival

Whole Class Ensemble tuition – We offer the first programme for KS2 at vastly reduced costs (big subsidy) once you sign up to schools membership.  Further programmes still receive subsidy, Making    this an affordable offer.  All instruments are included in the cost. More info

Small Group & Individual Instrumental Tuition – Our flexible paying scheme make these lessons affordable.  lessons can be delivered at school, at the music centre or online. More info

School Singing Support – Our support programme comes in a variety of ways.  Our newly appointed Music Outreach Officers will support your school in developing a school singing strategy.

Music curriculum and PPA cover – We can extend some of our whole class programmes to 35 weeks to assist your school with PPA cover.  In addition, if you are looking for a music curriculum lead in your school, we may be able to assist you.  Please see speak to the music service directly about Curriculum support.

Live Music performances & Roadshows in school – We offer schools 4 live music roadshows a year to supplement your music curriculum.  The current shows are: Strings; Wind; Rock & Pop & Percussion.  You can view some promo videos showing you the flavour of our offer here: Roadshow Promos
We will also offer live performance opportunities through our programmes to schools from time-to-time.
Additional services and information for schools
Roadshow Promos Roadshow Bookings Calendar Musical activities & resources for schools Arts Awards e-Newsletters for schools Mini Musicians Schools Voice Festival Resources Charanga log-in Focus on Sound Instrumental & Vocal Lessons
Some services can be purchased on a buy-as-you-go basis
If you are already a school hub member, clock the button to see what services can be purchased on the buy-as-you-go! Buy-As-You-Go Form
---
Our Flexible Paying schemes
We offer the option for parents to be billed directly by Swindon Music Service (Parent Direct Pay).  The is our default option for our out-of-school/hours programmes through Swindon Young Musician, and is also available as an option in-school for small group/Individual Instrumental lessons.
For services purchased directly by the school: We issue One rolling Framework Service Agreement signed by the school, or academy trust.  This Agreement is only signed once and not every year.  This permits Swindon Music Service to send you annual a service addendum for the services purchased for the coming yearl. Schools will also give permission for Swindon Music Service to enter into individual contracts with parents for services to be delivered during the school day.
Individual invoices issued to parents on a termly basis. Different arrangements are available for lower income families, Looked After Children and Forces Premium More info
---
School hub members can apply for a music development grant from time-to-time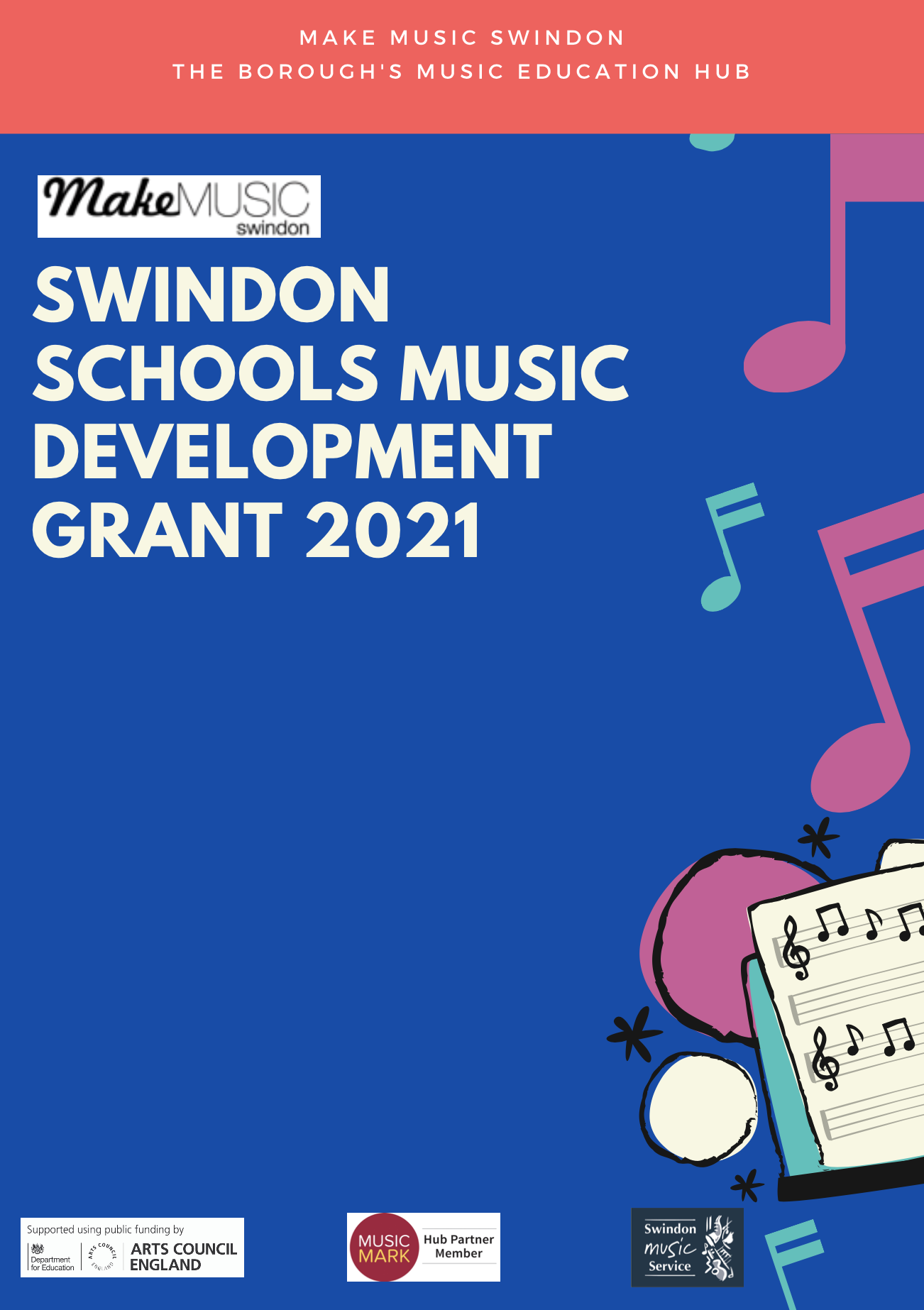 Applications window opens 1st April 2021 and closes 31st July 2021 and we are looking to award up to 8 programmes for  2021/22.  All successful programmes must finish by September 2022.
Examples of use of this grant (this list is not exhaustive):
1. Starting off an instrumental tuition programme where your school doesn't have one
2. Piloting new ventures / projects
3. Extending existing musical opportunities
Contact us for further details.
---
Risk Assessments
You can view SMS Risk Assessments by clicking the button: Risk Assessments
---