How does/could your child benefit from music?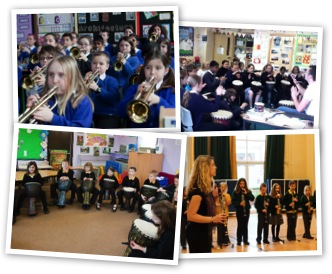 People want to learn an instrument (including voice) for all sorts of reasons, but mainly because they're drawn to something they've seen or heard, and want to try it for themselves.
That's a good enough reason. But if you are weighing up the pros (plenty) and cons (we can't think of any!), then you may be interested to know that by making music, your daughter or son will …
do better in school
It's proven that people who learn an instrument perform better academically than their peers, and that it improves their skills in many subjects.
be happier and healthier
Making music on your own or with others is fun, it can be calming and soothing or inspiring and exciting, and it has been demonstrated that music improves personal wellbeing.
broaden their horizons
Making music is a creative process, and as such it opens up whole new ways of thinking about and experiencing the world around us – which has a knock on effect in many areas of life.
meet and connect with new people
If you join or form a music group, you'll meet new people at venues, studios and the other places where you'll go to rehearse, record or perform. You may also find it gives you something in common with people who otherwise you may not connect with.
enrich their life
Music gives us feelings and experiences that are like nothing else: it's a powerful means of communicating, which is beyond words, and it enriches our lives and the lives of others.
learn many other skills that are useful in all areas of your life
Music can teach us team work and social skills, concentration and self-discipline, mental agility, co-ordination, memory, time management, learning skills, problem-solving, confidence and self-esteem and creativity.
may find their future in music …
… as a musician, tutor, teacher, community musician, in one of the many associated occupations, or as an important part of your life outside of what you do for a living.