Whole Class Ensemble Tuition
A highly-successful and practical approach which reflects and builds upon your students' existing passion for music
Introducing children to the joy of music is at the heart of what we do.
Whole Class Instrumental Tuition aims to ensure that every child between the ages of 5-18 is given the opportunity to play a musical instrument for at least one term – a core requirement of the National Plan for Music Education.
First Access (In2Music) is a taster module delivered over a minimum of one term, but available for 30-weeks of the academic year (further sessions can be purchased to take this to a maximum of 35 weeks) which can be taught through a variety of different instruments.
The programme ensures that every child can experience enjoyment and success from the vary earliest stages of musical learning.  Specialist instrumental tutors work alongside class teachers (or teaching assistant) to offer well-planned, progressive experiences. In2Music has revolutionised the way Music Education is accessed nationally with over two million pupils currently learning as part of a whole class every week!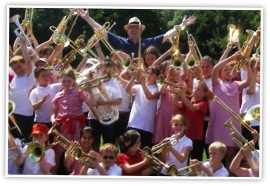 Continuation builds upon the performance skills, creativity and aural awareness gained through the In2Music programme.  Whole class continuation programmes (Music4U) can ensure progression over the course of an academic year or even beyond, allowing pupils to progress to the next level. Research has shown that 90% of children accessing whole class instrumental teaching programme benefit from positive health and improved social skills.
Both programmes lead to enhanced enrichment opportunities and partnership working. Opportunities for your pupils to progress to instrumental tuition and ensembles providing lasting impact value for money will be supported and encouraged
Each First Access programme includes: 
One year of lessons 45 minutes or 1 hour of in-school contact time per week with one instrumental tutor.

Instrumental hire for the duration of the project.

All resources and curriculum materials.

Access to performance opportunities both in and out of school.

Opportunities for pupils to become part of our beginner ensembles and groups at our music centre; The Platform.
IN2Music & MUSIC4U  is offered on the following instruments:
Trumpets & Trombones

Clarinets

Flutes

Djembe

Ukelele

Guitar

Violins or Cellos

Garage Band –

iPads 

Singing 

(a part of your singing strategy)
What schools need to provide:
A suitable space with access to an interactive whiteboard or screen and projector, linked to a sound system.

The time for a class teacher (or teacher assistant) to support the lesson.

Storage space for the instruments

Access to WIFI

Music Stands (if required)