Our Offer to Schools
Our service offer to Swindon Schools 2022-23 Academic Year!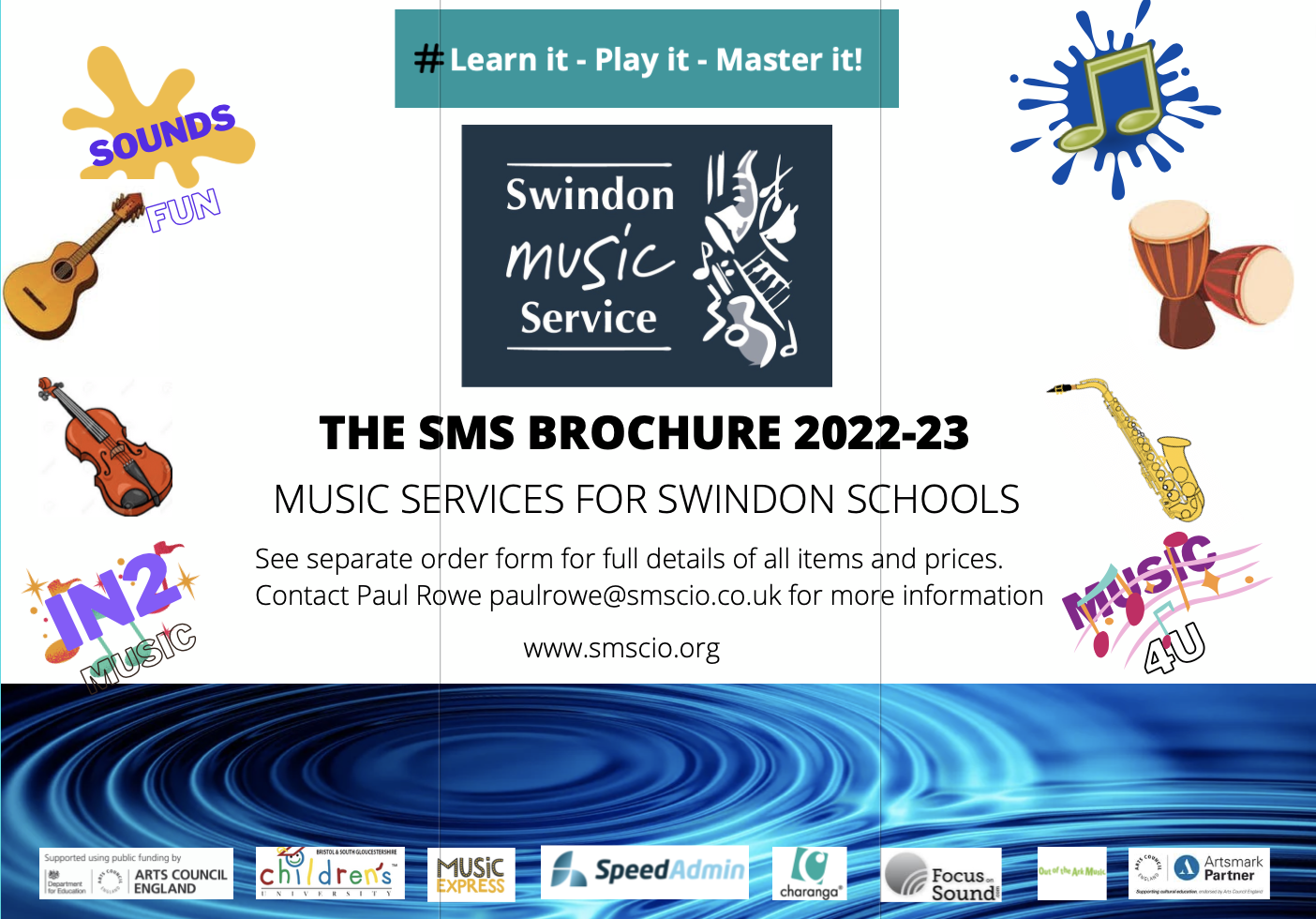 You can view our latest brochure for schools.Brochure
Whats New for 2022-23?
Improved schools hub membership with support from Music Specialist Outreach officers
Online resources
Annual CPD programme
Remissions for instrumental and vocal tuition where families meet the criteria
Support services outlined for the National Curriculum and Artsmark
---
Whole Class Ensemble Tuition – For KS1&2
We offer 15 or 30 sessions throughout the academy year.  If you are aa hub member, then your session session will receive a large subsidy through the Arts Council England grant.
The instruments offered at KS1 are:
Singing – Recorders – African Drumming (Djembe) – Ukulele
The instruments offered at KS2 are:
Singing – Recorder – African Drums (Djembe) – Ukulele – Guitar – Brass (trumpets & trombones) – Woodwind (clarinets, flutes) – iPads (composition)
---
Coming soon!
Swindon Music Service has partnered with Yamaha Class Band and will soon be offering schools the opportunity to create a school band from scratch using a well-known method developed in Europe.  To find out more about the programme See more...
---
Instrumental & Vocal lessons in schools – For KS1,2,3,4&5
You can view the brochure for schools and parents. Click here
There are two options when schools offer tuition in their school:
The school buys in blocks of time (a minimum of 1 hour is required per instrument family).  This option attracts free instrument loan through the school admin process
Parent Direct Pay (PDP). This is where parents pay the fees directly to SMS.  We also offer instrument hire at very competitive rates (below commercial rates). Lessons Fees for Parent Direct Pay. Click here.   PDP also attracts our REMISSION grants for both tution and instrument hire where a family qualifies – See our remissions leaflet Remissions Leaflet

---

Schools Voice Festivals at KS1&2

Singing is a unique form of self-expression accessible to all. It promotes self-esteem and emotional well-being, and is a fundamental means of communication. Singing together builds a sense of community, and it is evident in most cultures, celebrations and key moments of life. It is an important part of early learning and development, and is the natural starting point for music-making.

We believe that by providing a comprehensive singing programme in your school we can support your staff in delivering a valuable musical experience for your pupils.

Our annual Voice Music Festivals include CPD for school staff and entry in to the Festival for your pupils

Junior Voice Festival (usually March of each year with the

INSET

in January).

Christmas Voice Festival (usually November of each year with the I

NSET

in September).

Your school will receive a log-in to the songs, lyrics and backing & vocal tracks.   Login

---

Live Music  Roadshows

Each year we offer the following live performances in support of your music curriculum:

Rock & Pop show
Percussion show
Wind instruments show
Strings show

Each show lasts approximately 45 minutes

For more details contact:  paulrowe@smscio.co.uk

Once you have booked a roadshow, you can choose an available slot on our calendar.  To access the calendar:

Roadshow booking system

---




Resources

We are adding new resources to our site all the time.  You can access some free resources or, if you are a hub members school, you can access documents (such as Deep Dive Ofsted), CPD videos and much more.  When you become a member school, you can request a login.

Resources for your school Free Resources Login

---

Curriculum Support

Schools can request support from Swindon Music Service to develop the following:

School Music Plan (new for the NPME v.2)
School Music Health check
Singing Strategy
Online CPD sessions
Face-to-face CPD sessions

To book a on online or face to face session click here: Booking Calendar

---