Welcome to Swindon Music Service
Swindon Music Service is a not-for-profit Charitable Incorporated Organisation (CIO) formed in 2019.  Prior  to this, the music service was a long-standing department within the Local Authority's Children Services.
Its mainly funded through the Department for Education (DfE) grant, which is managed through the Arts Council England (ACE).  This grant is offered to create a mixed economy approach to our work through the National Plan for Music Education. NATIONAL PLAN FOR MUSIC EDUCATION
As a charity we also have a fundraising strategy to allow organisations and individuals to donate to our cause.  The fundraising strategy has been developed to support children and young people access musical opportunities where finance would/could be a barrier. Fundraising
---
Music Education Hubs
Music Education hubs are formed to facilitate all those interested parties in music education to come together to offer a broad and balanced approach.

If you wish to find out how you can get involved in Swindon's music hub, click the link below…
Make Music Swindon Education Hub>>
Hub Associate Delivery Member log in: Log in
Once you become an associated member of the hub, you can make an application for a Development Grant and/or a Community Music Project Grant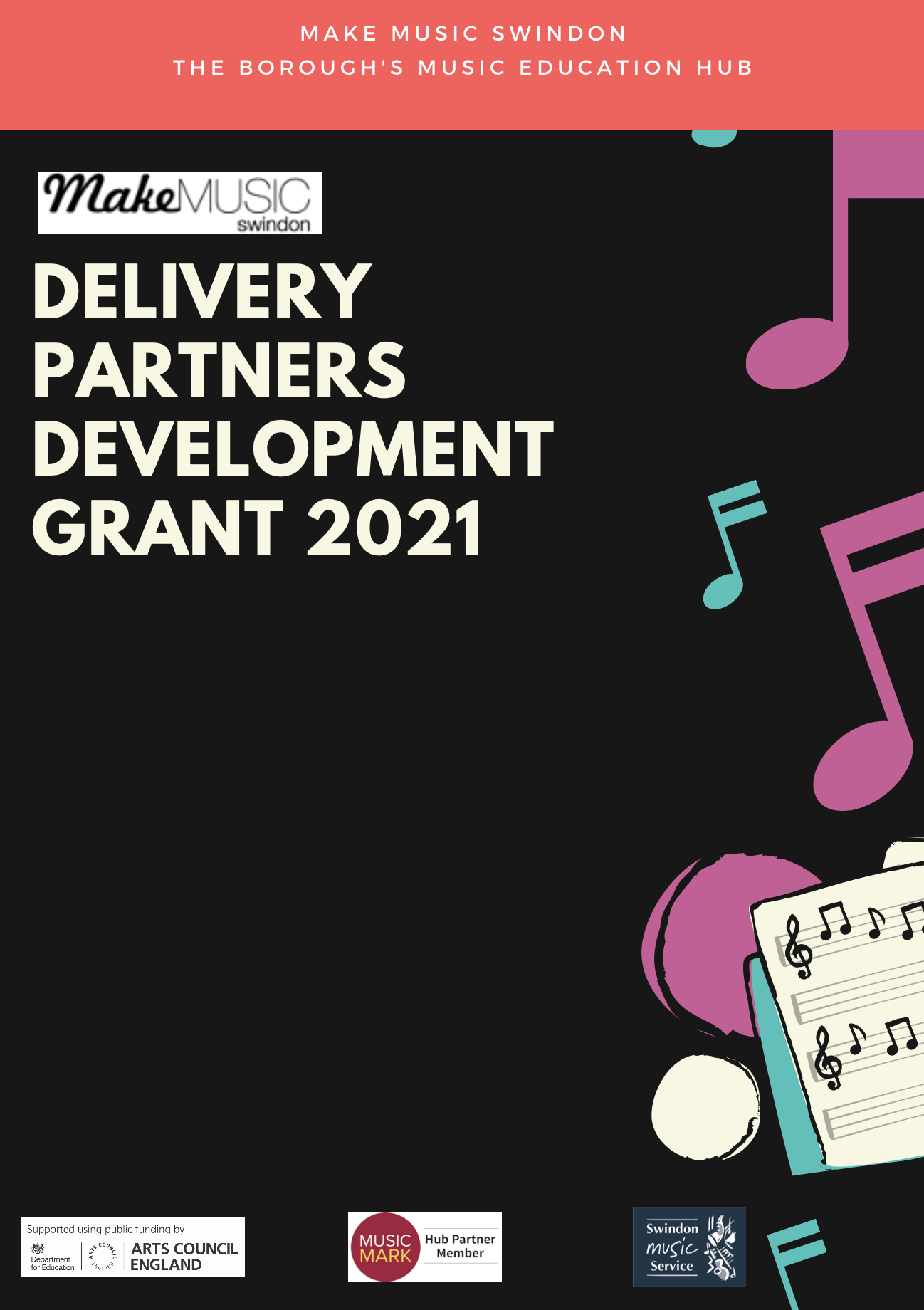 We will be identifying pots of funding on an annual basis to allow local associate delivery members of the hub to apply for a grant to assist them to develop music from time to time.  Each  grant application can apply for up to  £500 per year.  Once the pot of money has been allocated, the Development Grant application process will close until the following year.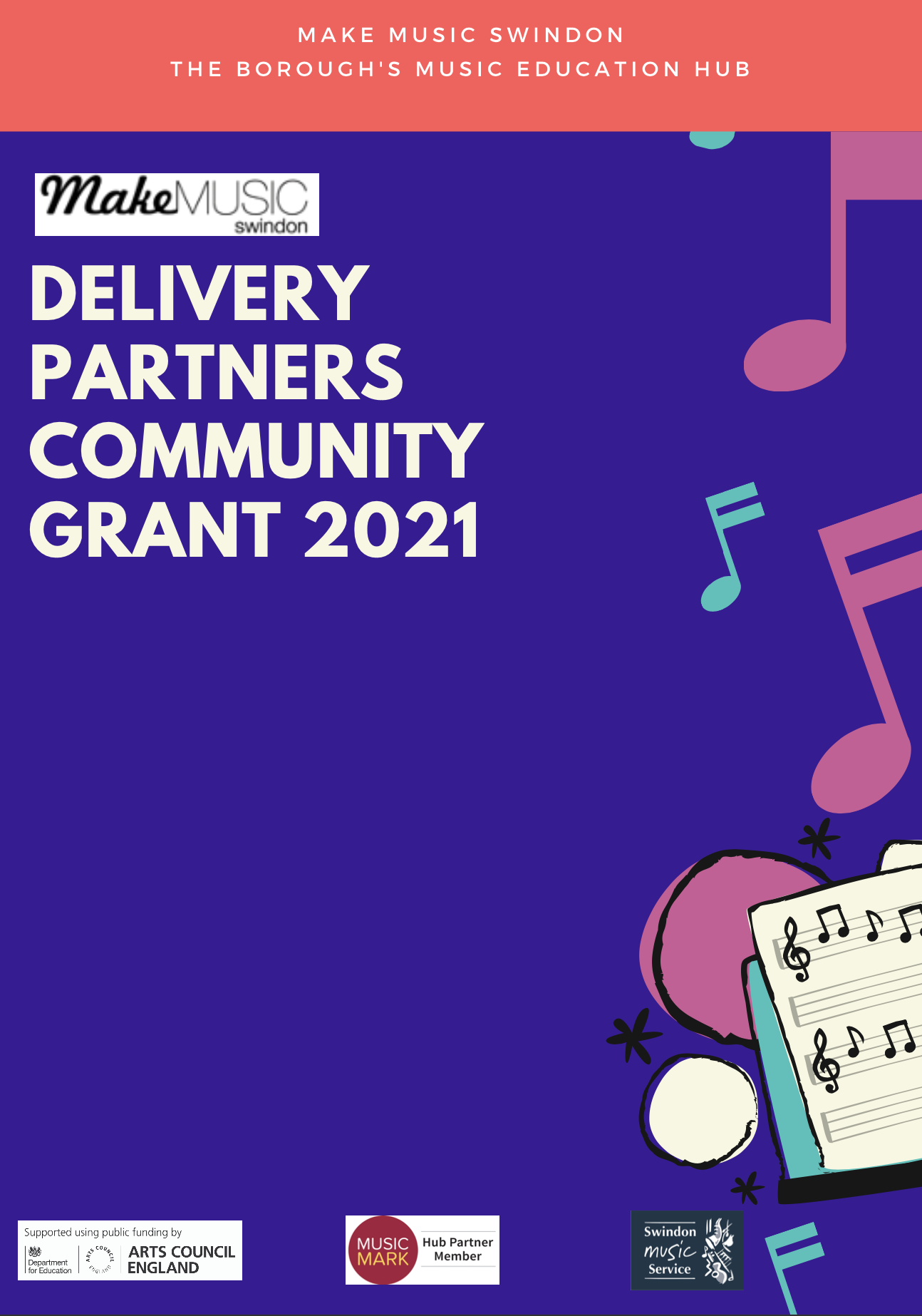 The associate delivery member community grant is designed to assist you to delivery out-of-school musical activities.  We are looking for up to 4 successful applicants for 2021/22. Each  grant application can apply for up to  £500 per year.
The application forms can be accessed in the Hub Associate member Organisations Log in section, which has a password.
The first funding round for both grants will open on 1st April 2021 and close on 1st July 2021, or when the identified pot of funding has been used.  Funded projects must be completed by March 2022.
If there is any funding left after the first funding round, we will open up a second funding round on 1st September 2021 and will close on 1st  December 2021.  Funded projects must be completed by March 2022.
---
Equality, Diversity and Inclusion (EDI)
What is the purpose of the strategy?
The strategy sets the foundations for Make Music Swindon to build a diverse and inclusive educational culture where staff, children and young people are valued and recognised for their qualities, ideas, voices and perspectives.
Our organisational goals are:
Increasing Diversity of candidates in our recruitment process: Creative Difference
Raise awareness of Unconscious Bias  and how it influences interactions with our staff and students: "
Improve the service to be as Inclusive and Diverse as possible by reflecting and celebrating the music of our community: Music Participation-Inclusion>> You can access our Needs Analysis process here: Needs Analysis
Fostering a sense of Belonging with our music hub.
The strategy is based on seeking positive answers to three key questions:
Do all children and young people in Swindon receive high quality music education that is tailored to their needs, interests and abilities?
Do the Hub values embrace inclusion and does its practice and promote it?
How well can the hub's SMS team individually and collectively recognise and overcome barriers to learning?
Swindon Music Service offers its local delivery partners in the hub a grant from time-to-time to assist them in helping us to deliver our music inclusion offer in Swindon.
South West music hubs Diversity & Inclusion strategy:
Make Music Swindon is working as part of a South West regional sub-group  of Music Mark with other Music hub leads to create a Diversity & Inclusion policy/strategy.  The Aims of the initial work will be looking at the following four strands:
Governance
Workforce
Children & Your People focussed (through youth voice)
Programming
---
Virtual Music World

Virtual Music World has been developed in light of the COVID-19 pandemic.  This online resource is split into two areas:
Virtual Music World – Schools
Virtual Music World – Community
You can view more by clicking the button…
Virtual Music World>>
---
Policies, Documents & Musical Resources
Privacy Notice>> Terms & Conditions>>  Instrument Hire>> Social Mobility>> Needs Analysis>> COVID - 19 Information and Updates>> Feedback & Quality Assurance>> Workshops>> Progression Vs Progress>>