Safeguarding for Online Tuition
Online tuition is safe and secure
One of the most important things for many parents when weighing up tuition is the safety aspect.
Will my child be safe with a tutor?
Do I have to leave my child in a stranger's home?
How will I know what goes on in the tuition sessions?
All of the above are worries that may cross a parent's mind when they are researching a tutor, but online tutoring addresses each and every one of them.
Thanks to the marvels of modern technology, each session will take place in the comfort of your own home, which means that not only will your child feel safe in a familiar environment, but you will also be able to keep an eye on what is going on.
Online tuition also gives Swindon Music Service the chance to firmly vet tutors to ensure that each and every one of them meets the high safety standards that are in place, and monitor lessons. This enables us to ensure that safeguarding procedures are followed, meaning you can rest easy when searching for a personal tutor from Swindon Music Service for online tuition.
How Swindon Music Service ensures your child is safe during their session
The care of your child is top of the priority list here at Swindon Music Service, and we go to great efforts to ensure that they are safe during their music lessons. All of our tutors go through thorough enhanced DBS checks  before they begin teaching, and we monitor and record lessons to make sure that your child, along with the hundreds of other children that are using our online service, is safe.
Safeguarding Guidance Brochure for Parents
Click on the picture to download the brochure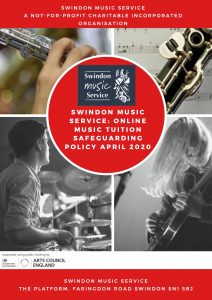 Risk Assessment:
You can view Swindon Music Service Risk Assessment by clicking the link